The Bays:
The halibut action is off to an early start due in part to the lack of water moving through the Sac rivers and into the Bays. This past Monday 3-2 on his way back from Half Moon Bay second captain Jared Davis on the Salty Lady came upon a huge area of bait off the South Side. he was able to scoop enough to fill their bait tank. On Thursday 3-5 he took a light load of 5 anglers out for the first live bait halibut trip of the season. Fishing from Paradise to South Hampton they boated 8 halibut and one striper all in the 7to 12 pound class. A very impressive score considering the early time of year. Jared has live bait in the tanks and is offering additional trips this week as well as whale watching trips from Half Moon Bay.
---


6 year-old Dominic Fontana of Petaluma is the current leader of the Annual "Lord of the Sea" Striped Bass/Halibut Derby with the 32-pound flatfish taken at Paradise over the weekend. BEAT THAT!
Mike Andrews of Predator Sport Fishing reported excellent action for both striped bass and sturgeon in the flats west of the Mare Island Rockwall on Saturday 2-28. He started off at the Mothball Fleet in Suisun Bay, only to be met by a flotilla of boat traffic and few willing biters. After motoring into the shallows west of the Rockwall, they landed a half-dozen striped bass within ½ hour, keeping three clean fish between 22 and 28 inches in addition to the first of several sturgeon. He said, "In the final hour, were landed three slot fish from 41 to 47 inches at the bottom of the outgo with an eel/ghost shrimp combination on a light 50-pound monofilament leader. We like the lighter leader because we get quite a few more bass on the set ups." Sunday's trip was a different story as the bite was frustrating for most fishermen. They ended up with 10 bass for 6 anglers along with a small slot limit sturgeon at 40.5 inches and a 48-inch leopard shark. Andrews added, "The bay is getting saltier every day with the lack of fresh water inflow. Until the bass dash up the river to spawn – and it could be soon – we should continue to have excellent bass fishing for both bait and lure fishermen." Trollers are working the Hamilton Flats and along Pinole Point for great action. He continued, "The bass action is very, very unique and rare for this time of year, and this hasn't been experienced since the last extended drought." With the smaller tides, Andrews will be using shrimp with a sprinkling of shiny blue/chrome RatLTraps, hair raisers, and swimbaits. He concluded, "This is my favorite time of year to fish!"
|On Tuesday 3-2 Ed at Bay Tackle in El Cerrito reported the striper bite has slowed down from the Pinole shorelines for lure casters, perhaps due to the winds muddying up the water over the weekend. The best striper locations have been Sonoma Creek, the Petaluma River, and the Napa River. Halibut are showing up in the bay, and there are some large flatfish in the 15 to 20-pound range caught by trollers or live bait drifters on a regular basis from a variety of locations in the bay. The herring spawns are basically over, and most of the spawns occurred in the south bay, but there were two big spawns off of Richmond this year. Perch fishing has been "unbelievable' with plenty of perch in the bay with the best quality taking place outside the Gate on beaches such as Stinson, Muir, and Ocean Beach with redtail perch to 3 pounds reported.
---
Halibut fever has arrived at the start of March with up to 3 limits of halibut landed in a variety of locations within San Francisco Bay. Second captain Jerad Davis of the Salty Lady out of Sausalito was able to plug their bait tank with live anchovies, and he is planning on getting in on the action this coming Thursday and Friday with open load live bait striper/halibut trips on the vessel. Deckhand Deva Sherman said, "One boat reported 7 halibut on Saturday."
Keith Fraser of Loch Lomond Bait a

nd Tackle in San Rafael

reported one boat returned on Sunday 3-1 afternoon with a 32-pound halibut landed by a 6 year-old on the skiff. They were drifting in the Paradise area, hooking 5 halibut, landing 4 with two under the 22-inch minimal, one in the 8-pound range released, along with the big halibut. Fraser said, "This fish currently leads the annual 'Lord of the Sea Striper/Halibut Derby,' as the young boy was registered in the event. After releasing the smaller legal halibut at the end of the tide, the boat motored over to the Pumphouse to anchor for 4 legal striped bass along with a shaker while losing a large sturgeon on a jump completely out of the water. Fraser said, "The bass bite is 'off the charts' with Captain Gordie Hough returning with 18 striped bass along with a 54-inch sturgeon while releasing 4 shakers using shrimp baits in San Pablo Bay."
Olympic ski champion Johnny Mosley was in Loch Lomond Bait and Tackle on Sunday, purchasing bait for a trip with his children on the bay. Fraser said, "At last report, they had picked up a pair of striped bass."
Captain Ji

m Smith of the Happy Hooker said the water near the Richmond shoreline muddied up a bit over the weekend due to the wind, limiting trolling for striped bass, but he was aware of one skiff with three limits of halibut taken by trolling near Oyster Point. He also has live bait, and he is looking forward to getting the boat back from the boatyard by this coming Saturday, March 7
th
for an open load trip.
Captain Mike Rescino of the Lovely Martha out of San Francisco came back with 5 legal halibut to 17 pounds

for 11 anglers on Saturday working the south bay. He said, "We had one shaker along with many bites. The halibut season is off to a great start."
---
Alaska Vacation Cabin

For readers looking for an Alaskan adventure we still have a few weeks available at our Kenai peninsula vacation cabin in 2015
Our fully equipped, coastal home sits on three wilderness acres on the "middle Kenai peninsula". Being centrally located we are within 30 minutes of five rivers including the Kenai, Kasilof and Anchor and just 20 minutes north of the saltwater tractor launches in Ninilchik and Deep Creek. We also have beach access to some of the best razor clam areas in the world literally right out our back door.
Most of our guests do a combination of fishing on their own and a day or three of guided river, fly-out or saltwater trips between trips. With our centrally based location your options are unlimited.
For all our guest's we include a three hour tutorial (at our Sebastopol home) covering tackle, tactics, best locations. We can also hook you up with some of the best guide, charter and fly-out contacts in the area.
The three bedroom/ 2 bath cabin comfortably sleeps 6 and weekly rates are just $1500 per week (Sunday to Sunday). Additional info and pictures can be found here.
If you have any questions please give us a call at 707 479-0992
---
Upcoming Events:
USAFishing proudly supports the many fishery and wildlife organizations that benefit anglers and hunters throughout Northern California. Does your organization have an upcoming event? Contact us at fishsite@aol.com and we will gladly post the information on our reports page.
Golden Gate Salmon Association Events Calendar
---
Party Boat Information and Reservations Around the Bay
The Happy Hooker will be running potluck trips from the Berkeley Marina +1.510.223.5388

California Dawn will be running halibut and striper trips from the Berkeley Marina +1.510.417.5557

Emeryville Sportfishing Center is booking potluck trips on their fleet of 8 boats +1.510.654.6040

---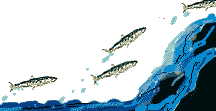 Caught Fish? Looking for timely informative updates? Check out a FREE trial to the Northern California Hotsheet, California's fastest growing fishing newsletter. The Hotsheet is emailed three to four evenings per week direct to your desktop. No hunting the web for information or waiting on an outdated magazine to arrive in the mail. These in-depth reports keep you on top of what is happening TODAY so you can catch more fish tomorrow! Just $3.50 per month when you subscribe for one year. You can receive a free week's trial copy by e-mailing a request to hurleyjacks@aol.com