Smith & Chetco Flows Remain Steady, Rivers South Rise
All the recent rains that have hit the Central coast have had little effect on rivers to the North. While the Eel has seen a rise and is muddy the Smith and Chetco have been holding steady or seeing a small drop the past few days.
Here on Sunday 3-2 at 11:AM the Smith is flat lined at 8 feet. Light rain is forecasted this afternoon and the river could see a slight rise which would be a good thing. Guides are reporting 2 to 5 fish mostly adults and a mix of 1/3 runbacks to 2/3 bright fish.

The Chetco has been the place to drift the past week or two. Dave Jacobs reports he is putting clients into 5 to 10 hookups and an average of 4 to 6 fish to the net. Dave says they are starting to see some downers but over half of their fish are dime bright 5 to 12 pound fish. Tony Sepulveda had a very similar report of 6 to 10+ hookups per day and says they are seeing 5 to 8 fish through Saturday. Tony said the bite was slower on Sunday and he felt that the fish in the lower river made a big push up. Tony is on vacation through April 3rd and his next trips run will be ocean out of Eureka on his six pack. The river is in great shape and looks to remains so into early next week.
The South Fork Eel is on a slow drop currently a tad high at 9.3 feet at Miranda. One flows drop to 8 feet at Miranda come Tuesday the bite will be on if the forecast holds true. The Eel is a huge producer in March and anglers should find a mix of mostly runbacks with some bright fish in the mix to keep things interesting. While this river is often colored and or out when it's "in and fishing" produces some of the highest scores in the state.
---
North Coast River Round Up
This current storm system is mainly bring rain to the area south of Pt Arena. 24 hour rainfall totals through 5:PM Wednesday 2-26 are: The Smith river has seen less than .04 an inch and the river has dropped to 8 feet. Guides are reporting 2 to 4 fish scores a mix of fresh run adults and a few run back fish that have recently spawned. The guidance forecast calls for just one foot increase in flow on Friday and the river looks to stay in through the weekend.
The Chetco has been putting out solid counts for the past several days. Guides are reporting 5 to 8 fish landed with some hooking double digits. Dave Jacobs reports that over the past few days their counts have been 6 to 7 fish landed running from 5 to 14 pounds. There have been lots of big fish landed the past two weeks and here too the river is in great shape and looks to remain so through early next week. One sad story from this past weekend is a reminder to drift boaters to ALWAYS were your life jacket.

Tragedy on the Chetco Claims One Angler's Life Others Saved by Quick Response

The Mad river is green and fishing well reports Gary Blassi at Mad river Tackle. Anglers tossing roe and others lining are seeing 2 to 5 fish per day a mix of 60% runbacks and 40% bright fresh fish just moving in. Gary says that knowledgeable anglers are working through the dark fish and many are seeing limits of hatchery fish running 6 to 12 pounds.
Moving south rainfall at Garberville on the South Fork Eel has only totaled .20 and the river is flat lined. The entire south fork is fishing to the main stem with guides seeing 3 to 7 fish per boat. The guidance plot calls for a steep four foot rise tonight and if the guidance plot is correct the Eel will be out on Thursday and will remain so through early next week.
The Russian is closed now to fishing through it should not have this late in the season. Lake Sonoma has reported 1.40" in just the past 12 hours and the much need rain is in the forecast for Mendocino County south through early Saturday. My top bets for the coming days are the Mad, Smith, Chetco and upper Klamath. All rivers south of Cape Mendocino look to be high & muddy through early next week.
---
Upcoming Events:
USAFishing proudly supports the many fishery and wildlife organizations that benefit anglers and hunters throughout Northern California. Does your organization have an upcoming event? Contact us at fishsite@aol.com and we will gladly post the information on our reports pages.
California Waterfowl Dinners and Youth Events Calendar
Golden Gate Salmon Association Events Calendar
---
River Levels: Chetco River Flow Data
---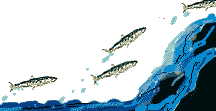 Caught Fish? Looking for timely informative updates? Check out a FREE trial to the Northern California Hotsheet, California's fastest growing fishing newsletter. The Hotsheet is emailed three to four evenings per week direct to your desktop. No hunting the web for information or waiting on an outdated magazine to arrive in the mail. These in-depth reports keep you on top of what is happening TODAY so you can catch more fish tomorrow! Just $3.50 per month when you subscribe for one year. You can receive a free week's trial copy by e-mailing a request to fishsite@aol.com