Rivers Drop Out, Rain on the Way
The Smith had dropped to 7.5 feet and is crystal clear here on Sunday 3-23. The fishing has been tough with guides seeing 1 to 3 fish a mix of blue back and downers. It is getting late in the season and most of the fresh adults have already made it into our Northern rivers.
A series of smaller systems is expected to impact the North Coast beginning late Monday and lasting into Thursday. These first three systems are expected to bring showers and light rain. Beginning late Friday and into Saturday a much stronger system is expected to impact the Oregon border area with heavy rain and quickly rising main stem rivers. The forecast may change but as of this writing the weather models are in agreement that this will bring significant rains to far Northern Cal next weekend.

The Chetco is seeing light pressure and those still fishing are seeing lots of runbacks in the lower river. This next push of water will likely increase the numbers of post spawn fish but I would suspect that by next weekend most rivers will return to high and muddy.
The Mad is green and running at 6.4 feet. Bankies are seeing a few down-runner hatchery fish with a few bright late season natives around to keep things interesting. Work roe and a Fish Pill in the Deeper holes and slots.
The South Fork Eel has dropped out as well with the Miranda gauge showing just 7.8 feet or 520cfs. Guides have dropped down to the main stem but with Tony Sepulveda on vacation we don't have a current report. I would expect that most are still seeing 5+ fish per day working plugs and roe from the Forks to Stafford.
The Eel, Mad, Van Duzen, Redwood Creek and Mattole close to fishing on March 31st. The Smith is open through April and the Klamath and Trinity are open year round.
Reports here will resume on November 2014
---
Upcoming Events:
USAFishing proudly supports the many fishery and wildlife organizations that benefit anglers and hunters throughout Northern California. Does your organization have an upcoming event? Contact us at fishsite@aol.com and we will gladly post the information on our reports pages.
California Waterfowl Dinners and Youth Events Calendar
Golden Gate Salmon Association Events Calendar
---
River Levels: Chetco River Flow Data
---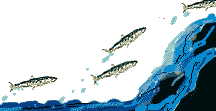 Caught Fish? Looking for timely informative updates? Check out a FREE trial to the Northern California Hotsheet, California's fastest growing fishing newsletter. The Hotsheet is emailed three to four evenings per week direct to your desktop. No hunting the web for information or waiting on an outdated magazine to arrive in the mail. These in-depth reports keep you on top of what is happening TODAY so you can catch more fish tomorrow! Just $3.50 per month when you subscribe for one year. You can receive a free week's trial copy by e-mailing a request to fishsite@aol.com