All rivers are low and clear here on Thursday 2-15. The forecast calls for light rain / showers this coming weekend but rainfall totals will be very low and don little to change the current conditions.
The better news is that it is February and there are steelhead moving into all systems. Guide Dave Jacobs has been fishing the Chetco this past week and reports they are still seeing 3 to 5 chances every day. The key is patience.
Dave says he is finding his best action working Hotshots and Weewarts slowly backed through the slots and tail-outs. He is also picking up a few fish casting Cloes in the holes and working splush balls and roe. Tonight he videoed a group of rough fifty fish pushing through the lower Chetco at the take out. There are steelhead in all the rivers, its just a matter of a stealthy approach and patience. Dave added that fishing pressure on the Chetco has been very light and that is a big help to target fish in low and clear conditions.
The Smith is down to under 7 feet and is very low and clear. There are still a few fish being taken on the main stem and bankies are hooking a few on the Middle and North Forks.
The South Fork Eel is down to 415cfs at Miranda. Maybe if you have some good local intel you will find spots to fish but in conditions this low the main stem will be a better bet.
The Mad is currently at 560cfs at Arcata. That said we have seen lots of hatchery bound fish pushing up through January and there are still good numbers staging in the holes below the hatchery. This is a rare time to break out the roe and spoons and target fish in the holes from the hatchery to Blue Lake.
Despite the ultra low flows of just 250cfs at Dry Creek on the Russian there are still steelhead pushing through. Private anglers are seeing decent catches but the key is to find less pressured waters which is always tough in this urban fishery.

Guide Dave Jacobs will is offering trips on the Smith, Chetco and Central Oregon rivers. 530 646-9110
---
Upcoming Events:
USAFishing proudly supports the many fishery and wildlife organizations that benefit anglers and hunters throughout Northern California. Does your organization have an upcoming event? Contact us at fishsite@aol.com and we will gladly post the information on our reports pages.
California Waterfowl Dinners and Youth Events Calendar
Golden Gate Salmon Association Events Calendar
---
River Levels: Chetco River Flow Data
---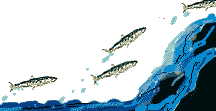 Caught Fish? Looking for timely informative updates? Check out a FREE trial to the Northern California Hotsheet, California's fastest growing fishing newsletter. The Hotsheet is emailed three to four evenings per week direct to your desktop. No hunting the web for information or waiting on an outdated magazine to arrive in the mail. These in-depth reports keep you on top of what is happening TODAY so you can catch more fish tomorrow! Just $3.50 per month when you subscribe for one year. You can receive a free week's trial copy by e-mailing a request to fishsite@aol.com