Rivers Blow
All North Coast rivers are high and muddy and look to remain so for the next several days to weeks. Many reservoirs are at seasonal capacity as they are used for flood control in addition to summer storage. Water is held back during storms and released after to make room for future storms. This will keep the Russian and the rivers of the Central Valley high and off color for a week or longer after the sun returns.
Some 24 hours rainfall totals and river flows as of Sunday 1-9 at noon
The Smith is flat lining around 12 to 13 feet with rainfall of 2.23 inches. The Smith will be the first river back in possibly by Friday of this week.
The Chetco is high and muddy and depending on future rainfall could be in next weekend to early next week????
The Mad has pushed well up with the 2" of rain and will remain muddy for quite some time. The steelhead bite has been slow with just a few very scattered fish taken by the bead crowd below the hatchery. We are coming into prime time for Mad steelies so they are either going to show soon or this could be a down year.
The South Fork Eel is seeing a rapid rise currently at 16.2 feet or 16,000 cfs at Miranda. On the Main stem Eel 2.12 inches of rain at Ft Seward. The Eel was giving up a few steelies mostly 1 to 3 per boat on both roe and plugs. It will take a week of dry weather for the Eel to drop and green.
Over the hill at Honeydew they have seen 4" of rain and the Mattole is running at 9000 cfs and rising.
The wet spot is once again Venado located about 10 east of Healdsburg with 7.12 inches. The Russian is headed toward warning stage this afternoon with all gauges seeing hard rises. Releases off Lake Mendocino are just 200 cfs as they hold back for flood control. With scattered rain expected Monday and a wet system forecasted to arrive on Tuesday the Russian will be running high and muddy (due to dam releases) for the next couple of weeks. The steelie action has been very slow on the Russian for all of December with just 50 or so fish seen at the hatchery this season.
Where things get really sketchy is over in the foothills and the Sac Valley. Last week's snow is being melted by this weekends pineapple express. Flows on all rivers are ramping up hard as the snow as high (or higher then 9000) feet gets melted away. On the American they are currently releasing 30,000 off Folsom with a current inflow of 40,000 cfs and rapidly climbing.
On the Yuba they have reached flood warning stage of 72 feet or 23,000cfs in Marysville. Flows are only going to climb higher as all that water starts to push out of the mountain watershed.
The main stem Sac and all the bypasses are quickly filling the entire valley with water.
---
Upcoming Events:
USAFishing proudly supports the many fishery and wildlife organizations that benefit anglers and hunters throughout Northern California. Does your organization have an upcoming event? Contact us at fishsite@aol.com and we will gladly post the information on our reports pages.
California Waterfowl Dinners and Youth Events Calendar
Golden Gate Salmon Association Events Calendar
---
River Levels: Chetco River Flow Data
---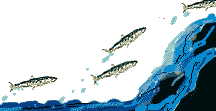 Caught Fish? Looking for timely informative updates? Check out a FREE trial to the Northern California Hotsheet, California's fastest growing fishing newsletter. The Hotsheet is emailed three to four evenings per week direct to your desktop. No hunting the web for information or waiting on an outdated magazine to arrive in the mail. These in-depth reports keep you on top of what is happening TODAY so you can catch more fish tomorrow! Just $3.50 per month when you subscribe for one year. You can receive a free week's trial copy by e-mailing a request to fishsite@aol.com