Delta Report
By Dave Hurley
On Wednesday 10-29 Pam Hayes of Benicia Bait reported a slowdown in salmon action from the shoreline, but the coming rains may bring in the last push of salmon for the season. Striper fishing has been very good from both the shoreline and by boaters, and one boat has been casting hair raisers at night near the Fleet for over 40 keeper bass with 12 fish over 10-pounds on one night, and they followed up with a repeat performance the following evening. They are working hard to keep up with the bullhead demand, and Hayes recommended reserving the bait for the best opportunity to obtain bullheads. They are going through 200 to 300 bullheads per day. Sturgeon fishing has been best from the area around the Middle Grounds. They have grass shrimp, salmon roe, eel, and some bullheads in the shop with blood worms and pile worms arriving on Thursday.
Jay Lopes of Right Hook Sport Fishing has been finding good action off of Pittsburg with a pair of keepers at the start of this week. Lopes is scoring with salmon roe.
Near Liberty Island, Scotty Marran of Yuba City took a tip from the Hot Sheet and went to the Liberty Island area with 'Tuna' Randy Marino and Bob Bradbury, and they got located power drifting live mudsuckers at the top of the incoming tide with action ranging from a slow pick to doubles and triples. He said, "They are biting along the drop-offs on both tides, but they would touch jigs, swimbaits, or dead mudsuckers."
---
The wind blew hard on Sunday 10-26 with a cold breeze throughout the day. Salmon continued to be taken from the shoreline in lower Suisun Bay with bright quality fish arriving on a daily basis from the Dillon Point State Park or 1st Street in Benicia. Further upriver, the salmon bite has slowed near Freeport, but there are still a few fish landed daily. Sturgeon fishing broke out in a big way near Pittsburg with the diamondbacks stacking up from the PGE Plant to Chain Island. Striper fishing has been best near Collinsville, Decker Island, and north from the Rio Vista Bridge to the Sacramento Deep Water Channel. Water hyacinth is still a plague in the main Sacramento River into the upper sloughs with the vegetation moving daily with the winds and tide.
Tony Lopez of Benicia Bait said, "There have been between 8 and 9 salmon taken daily from the State Park with another 7 or 8 at 1st Street, and these are all nice, clean fish in the 15 to 20 pound range." Vee-Zee spinners or Mepp's Flying C's continued to be the top lures for the shoreline salmon.
Sturgeon are stacking up in the deep water near the Pittsburg PGE Plant, and Jay Lopes of Right Hook Sport Fishing, Joey Gamez of Legal Limit, and Steve Mitchell of Hooked Up Sport Fishing were part of a Phenix Rod Challenge on Saturday out of Pittsburg, and Mitchell delivered the 'final blow' in the competition with a 72 inch sturgeon caught and released. Lopes has been experiencing solid action with three keepers on Saturday, soaking salmon roe in the deep water.
John Badger of Barbarian Sport Fishing out of McAvoy's Boat Harbor in Bay Point said, "I have been fishing down below at the Horseshoe, but the small stripers were eating up our salmon roe, so we ran up to Chain Island on Saturday for a 53 incher on salmon roe along with several shakers." "The water temperature dropped a degree on the incoming tide, and the bite dropped off. The shorter days and cooler nights are a good sign, and I am looking for big things this week."
For striped bass, Tony Lopez added, "It has been a madhouse around here with the heavy demand for bullheads as we are going through 200 to 300 bullheads per day and barely keeping up with demand." Shore fishermen are using the bullheads, but there have been some bait-stealing crab munching on the live bait. He advised moving to another location when the crabs attack.
Larger striped bass have been holding around Liberty Island with smaller schoolies in the Sacramento Deep Water Channel. Alan Fong of the Fishermen's Warehouse in Sacramento reported solid action in Liberty with topwater River2Sea Whopper Ploppers or Kincannon 10-inch glide baits in the shallows. There have been several fishermen going into Liberty Island at night and removing large striped bass. Two boats holding 11 fishermen on a recent evening trip removed 11 limits of striped bass averaging 8 to 10-pounds. Many fishermen practice catch and release, but areas where the striped bass stack up lend themselves to heavy harvesting of the limited numbers of larger fish.
Johnny Tran of New Romeo's Bait in Freeport has been touting drifting live mudsuckers at Liberty Island for the past several weeks, and he was able to reel in a heft limit on Thursday and Friday mornings with the live bait. He touted the mouth of Miner Slough, Prospect Slough, Liberty Island, the Sacramento Deep Water Channel, and both sides of the Rio Vista Bridge as good locations for striped bass with the live mudsuckers.
Water hyacinth and aquatic growth continued to plague boaters on the San Joaquin and Mokelumne Rivers, and the boat launches at Buckley Cove in Stockton along with 14-Mile Slough, Disappointment Slough, and Whiskey Slough are choked with the vegetation. The Department of Boating and Waterways started spraying the hyacinth on Friday, but their permit is only good until November 1st. The heavy vegetation required fishermen to adopt different techniques.
Alan Fong of the Fishermen's Warehouse in Sacramento said, "The numbers of stripers in the San Joaquin are high, but the larger fish are in the Sacramento system." He touted spooning or drifting live mudsuckers in the San Joaquin."
In the Antioch area, Doug Chapman of Gotcha Bait said, "The water temperature has been dropping, and there have been a number of stripers in the 20 to 22 range on fresh shad, frozen sardines, or live mudsuckers." Larger bass have been basically absent from the area. Bluegill action slowed with fewer anglers willing to deal with the inclement weather over the weekend, but Jersey Island, Bethel Island, and Big Break are the top areas for the pan fish. "We continued to sell tons of waxworms," said Chapman. Catfishing has been slow with the absence of fresh or frozen clams, and anglers are opting for chicken liver as an alternative.
In the south Delta near Stockton, H and R Bait reported good striped bass action in the Grant Line Canal near Tracy with live mudsuckers or fresh shad. The hyacinth hasn't been too bad in Grant Line, but Whiskey Slough and the Middle River are choked with weeds. They continue to receive around 50 to 60 pounds of fresh shad on a daily basis.
---
Tony Lopez of Benicia Bait reported Friday 10-24, "It's a madhouse around here with everyone wanting bullheads." They are keeping up with the high demand, but barely. He went sturgeon fishing at the Middle Grounds on both Tuesday and Wednesday, and he said, "It has been very hard to get through the striped bass as they keep eating the bait, even the tough eel." Lopez cut the tailpiece off of an eel and wrapped it in an S-shape held in place with two beads, and the stripers left it alone. He was able to catch and release a 6.5-footer after switching to this bait, and the fish came out of the water and tail-walked before coming to the boat. Salmon fishing from the shoreline has slowed with only a 2 fish taken at 1st Street and 4 at the State Park on Thursday.
Do at Dockside Bait reported good action for striped bass with bullheads or mudsuckers at depths from 10 to 15 feet as he went out for limits from 5 to 14-pounds on Thursday morning. There were a pair of sturgeon landed at 54 and 58-inches on Thursday morning, but the angler released the fish in anticipation of this weekend's 'Iron Man' Sturgeon Derby. They have grass shrimp, bullheads, and mudsuckers in the shop.
Clyde Wands, shallow trolling expert, had a hunch that the fish moved up into the system, and although most trollers went south, he concentrated around Decker Island for stripers to 15-pounds released. He said, "We didn't catch the numbers of stripers, but the quality was good as we also released a 10-pounder in addition to keeping fish at 9.5 and 8-pounds." Wands will be at the Fishermen's Friend in Lodi this evening to support Barry Canevaro in his seminar at 6:00 p.m.
Johnny Tran of New Romeo's Bait in Freeport has been touting drifting live mudsuckers at Liberty Island for the past several weeks, and he was able to go out for this hefty limit on Thursday morning with live mudsuckers.
---
Hoist with His Own Petard:
Jerry Brown Reveals True Intent of Proposition One

Sacramento, CA - After months of misrepresenting the true purpose of Proposition 1, Governor Jerry Brown inadvertently undermined his own message at a recent Stanford water conference. He claimed the measure would provide components missing from the State Water Project "enacted by my father." These components, Brown ominously intoned, would "deal with the Delta."
Jerry Brown had attempted to "deal with the Delta" once before. That was during his first tenure as governor in the 1980s, when he tried to push through the Peripheral Canal, a fiscally irresponsible and environmentally destructive trans-Delta water conveyance scheme that was soundly rejected by voters.
Opponents of Proposition 1 noted that the State Water Project constructed by Governor Pat Brown is nothing to boast about. "It has depleted North State Rivers, degraded the richest estuary on the west coast of the continental United States, encouraged unsustainable corporate agriculture on the toxic soils of the western San Joaquin Valley and provided zero water security for southern California ratepayers," said Barbara Barrigan-Parrilla, executive director of Restore the Delta and field director for No on Proposition 1. "In concert with the federal Central Valley Project, the State Water Project has brought the Delta to the precipice of ecological collapse. Meanwhile, the State Water Resources Control Board has handed out water rights that promise five times more water than is available in California. Now, the Governor is championing a proposition for dams that will provide minimal water storage at astronomical expense, and destroy what is left of our salmon fisheries. These aren't legacies he should point to with pride."
Barrigan-Parrilla noted that Proposition 1 is closely allied to the Bay Delta Conservation Plan, a Brown scheme that is a reprise of the Peripheral Canal. The BDCP would authorize the construction of two gigantic trans-Delta tunnels that would devastate the Delta, cost $70 billion or more, and benefit corporate San Joaquin Valley farmers at the expense of citizen ratepayers.
Brown appeared at the Stanford conference – inappropriately titled New Directions for U.S. Water Policy -- with representatives of Paramount Farms, a corporation that cultivates 165,000 acres of orchards in the San Joaquin Valley. Stewart Resnick, a close Brown confidant and Democratic Party fund-raiser, owns Paramount Farms. Resnick has made hundreds of millions of dollars exporting nut crops to China. He has used his wealth to great advantage, influencing state water policy through generous political contributions, including to Brown's campaigns."Brown's master plan for California water is simple," says Barrigan-Parrilla. "First, it's about taking care of special corporate interests like Paramount Farms. Then it's about sticking taxpayers with the bill. It benefits the governor's cronies, but it certainly does nothing to secure the water security of average Californians."
Barrigan-Parrilla noted that voters must recognize the linkage between Proposition 1 and the BDCP, and reject both. "Voters should not be fooled. Proponents of Prop 1 may say the water bond is separate from building the twin Delta tunnels, which will devastate fisheries, family farms, and the five county Delta region. But the Governor does not see them as separate," she observed. "Gov. Brown's poor choices in water leadership through three terms have not protected Californians during this drought, and they will only assure future water crises. Prop. 1 mainly offers more infrastructure projects that will be bone dry during future droughts."
---
Delta Report from Jim Pickens of the Fishermen's Friend in Lodi:
The Salmon bite is good some days and the next you have to put in the time to land one on the Sacramento. Good news is the water temps continue to drop, which should kick the Salmon bite in gear. More good news for the Salmon anglers in the Delta is the Ocean bite for Salmon is still strong with many large salmon being taken. We have more rain and cooler weather in the forecast which will also assist with the Salmon bite
The Mokelumne Salmon bite has taken off in the last couple weeks which corresponded with the Pulse Flows from upstream. The Mokelumne maybe the place to be this week, EBMUD did a triple release on Monday and extra releases the rest of this week, which should really turn the Salmon bite on. The favorite technique has been spooning with Blade Runners and P-Line Laser Minnow, but trollers pulling Silvertron's have been successful in the lower Mokelumne, dodging water hyacinth.
Backtrolling with Kwikfish at Vierra's, trolling double spinners like Silvertrons and large single blades like Blue Foxes and Daigre QMS lures are working from Ko-Ket's up through Walnut Grove area. Chartreuse, red, blue and pearl have been the top producing colors. Anglers are all over the board with depths and speed. One constant is the in-coming tide has produced the best bite on the Sacramento and the Mokelumne.
The fall run of the Striped Bass bite continues to build. The San Joaquin side has some good fishing, but the water hyacinth and witches hair is a pain to deal with. The Sacramento side has some issues with grass, but not as severe as the San Joaquin side. Rio Vista down through Broad Slough is fishing well. Local angler and Striped Bass fanatic, Jack Clemons has been having good success for Stripers on the Sacramento side. On Tuesday he caught several stripers along with two over ten pounds. His favorite technique is deep diving P-Line Angry Eyes from Rio Vista down to Collinsville.
The Sturgeon bite is solid on Salmon Roe and Lamprey Eel in the west Delta. The PG&E cooling stations, Chain Islands and Montezuma Slough are some of the best spots, just outside of Liberty Island in the deep holes is always a good location.
Not a lot of Black Bass reports this week, due to the favorite spots for them are covered with water hyacinth on the San Joaquin and Mokelumne.
---
The Thirsty West: 10 Percent of California's Water Goes to Almond Farming
That's nuts.
DENAIR, Calif.—In California's vast Central Valley, agriculture is king. But the king appears fatally ill, and no worthy replacement is in sight, as the area noticeably reverts into the desert it was little more than a century ago.
Signs line the back roads here that run parallel to wide irrigation ditches: "Pray for rain" "No water = No jobs"
As I've already discussed in the Thirsty West series, city-dwelling Californians are a bit insulated from near-term water shortages thanks to the state's intricate tentaclesof aqueducts, pipelines, and canals that divert water from the snowcapped Sierras to the urban core along the coast. Rapid population growth looms ominously, but for now, you'll still be able to brush your teeth in Oakland and Burbank.
By all accounts the current water crisis is far more urgent in the sprawling fields of the Central Valley. And that's bad news for those of us who enjoy eating daily. Two simple facts explain why: California is the most productive agricultural state in the union, and agriculture uses 80 percent of California's water. In a year with practically none of the stuff, that's enough to send ripple effects throughout the country.
California is the nation's leading producer of almonds, avocados, broccoli, carrots, cauliflower, grapes, lettuce, milk, onions, peppers, spinach, tomatoes, walnuts, and dozens of other commodities, according to a 2012 Department of Agriculture report (PDF). The state produces one-third of our vegetables and two-thirds of our nuts and fruits each year. While fields in iconic agricultural states like Iowa, Kansas, and Texas primarily produce grain (most of which is used to fatten animals), pretty much everything you think of as actual food is grown in California. Simply put: We can't eat without California. But as climate change–fueled droughts continue to desiccate California, the short-term solution from farmers has been to double down on making money.
Like many Americans, I'd never visited California's ultra-productive Central Valley before my monthlong drought-themed road trip for Slate. I wasn't quite sure what to expect besides lots and lots of fields. Having grown up in a small town in Kansas and living now in the heart of Wisconsin's dairy country, I'm plenty familiar with agriculture, but I've never seen anything remotely resembling the scale on which it's practiced here. Agriculture here isn't the endless fields of corn and wheat of my childhood. Thanks to California's unique climate, fields here are comprised almost entirely of high-value cash crops.
Driving northward along California state Route 99 from Bakersfield to Fresno, we passed mile after mile of almond orchards, vineyards, and warehouses. There were enormous piles of hay on dairies the size of small towns. Citrus plantations extended to the horizon. And between them all was a crisscrossing network of irrigation ditches, most of which were dry. Coincidentally, this rural highway also bisects the heart of California's current mega-drought, in which three-quarters of the state is currently rated "extreme" or "exceptional" by the USDA and National Oceanic and Atmospheric Administration. It's pretty easy to see why this place is the epicenter of Western water issues. I ended up spending more time here than in any other stop on the trip.
Farmers in California are forced to irrigate because of a fundamental seasonal mismatch: The vast majority of the rain and snow comes in the winter and the best growing conditions (sunlight, warmth) of California's temperate Mediterranean climate are in the summer.
This year, farmers have to make important decisions—and it often comes down to money. If given a choice between keeping fruit trees alive (which take years to mature and can bring 10 times more money per acre), or planting rows of vegetables that live only a few months, that's a no-brainer if you're trying to maximize profit. This year, farmers are fallowing vegetable fields and scrambling to save high-dollar fruit and nut orchards. The result is counterintuitive: In the midst of the worst drought in half a millennium, the most water-intensive crops are getting priority.
California almonds use a stunning 1.1 trillion gallons of water each year, or enough for you to take a 10-minute shower each day for 86 million years (using a low-flow showerhead, of course). Here's the calculation: California as a whole diverts or pumps 43 million acre-feet of water each year to supplement its meager rainfall. In total, agriculture consumes 34 million acre-feet of that. (An acre-foot is just what it sounds like: the amount of water needed to cover an acre of flat ground up to a foot, or about 325,000 gallons of water.) In 2013, there were 940,000 acres of almonds in California, according to the USDA (PDF). Each acre of almonds uses three to four acre-feet of water each year, most of which are delivered via river diversions or groundwater.
Almonds are one of California's most water-intensive crops, but during this year's epic drought farmers are planting even more. The reason? Economics.
Almonds alone use about 10 percent of California's total water supply each year. That's nuts. But almonds are also the state's most lucrative exported agricultural product, with California producing 80 percent of the world's supply. Alfalfa hay requires even more water, about 15 percent of the state's supply. About 70 percent of alfalfa grown in California is used in dairies, and a good portion of the rest is exported to land-poor Asian countries like Japan. Yep, that's right: In the middle of a drought, farmers are shipping fresh hay across the Pacific Ocean. The water that's locked up in exported hay amounts to about 100 billion gallons per year—enough to supply 1 million families with drinking water for a year.
Though economics drive the seemingly improbable logic of California's water exporting, that's no reason to rush to boycott almonds. As this viral infographic fromMother Jones shows, it takes more than a gallon of water to grow a single almond, and it may take 220 gallons of water to produce a large avocado. But pound-for-pound, there's an order of magnitude more water needed to get meat and dairy to your plate. A stick of butter requires more than 500 gallons of water to make. A pound of beef takes up to 5,000 gallons. More than 30 percent of California's agricultural water use either directly or indirectly supports growing animals for food. (As Slate's L.V. Anderson recently wrote, one of the single most effective actions to combat climate change would be if everyone in the world went vegetarian overnight. It would also likely wreck our economy.)
Later this year, as the effects of California's drought reverberate through America's supermarkets, they'll be what amounts to a de facto water tax: The biggest price increases will be found with some of the most water-intensive crops.
Farmers here are turning to groundwater to make up the difference—and that's where things get worse. The shocking truth is, California is the last state that doesn't regulate groundwater pumping, even as supplies are dwindling. That means the motto around here right now is, to borrow another Mother Jones headline: "Drill baby drill (for water, that is)." In some overpumped places, the ground has already sunk by dozens of feet. There are indications that the debate could be changing. In April, a series of conservation bills were presented in the state Senate, with the intention of using the current crisis to address the issue of slipping groundwater supply.
The stakes are so high and the backlog for new water wells is so long that some farmers are buying their own million-dollar drilling rigs, just to protect their massive investments. Wildcatting drilling crews are working 24 hours a day to keep up with demand.
California will never solve its water crisis if the aquifer keeps getting more and more holes to extract groundwater. But in dry years like this one, the state's agriculture would almost cease to be without groundwater. One short-term answer is more efficient methods, like drip irrigation. The problem is, irrigation technology has gotten so good that typically the end result is increased yields. And the more efficient the irrigation, the less water gets into the soil for groundwater recharge.
While agriculture isn't a monolith, you'd think an industry dependent on water would be fighting for its survival by addressing the core of the problem. Yet some subsets of the industry seem to refuse to accept the new reality.
---
Upcoming Events:
USAFishing proudly supports the many fishery and wildlife organizations that benefit anglers and hunters throughout Northern California. If you or your organization needs to get the word out or are looking to promote an event please contact us at fishsite@aol.com so we can inform our readers.

Golden Gate Salmon Association Events Calendar
---
Party Boat Information and Reservations around the Bay
The Happy Hooker is running halibut and striper trips out of Berkeley 2008 +1.510.223.5388

California Dawn is running sturgeon trips from Berkeley +1.510.773.5511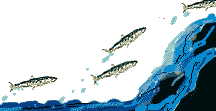 Caught Fish? Looking for timely informative updates? Check out a FREE trial to the Northern California Hotsheet, California's fastest growing fishing newsletter. The Hotsheet is emailed three to four evenings per week direct to your desktop. No hunting the web for information or waiting on an outdated magazine to arrive in the mail. These in-depth reports keep you on top of what is happening TODAY so you can catch more fish tomorrow! Just $3.50 per month when you subscribe for one year. You can receive a free week's trial copy by e-mailing a request to hurleyjacks@aol.com