Delta Report
By Dave Hurley
The big story is the amount of debris moving down the main Sacramento River with the fresh water outflow and the big outgoing tide. On Friday 12-19 Tony Lopez of Benicia Bait said, "It is dangerous out there, and you better have a lookout on board along with a sharp knife at the ready since a big log can pull under an anchored boat in a hurry." An estimated 40 foot log was floating under the surface off of 1st Street with only the two outside ends exposed above the water line. The main channel out of the Big Cut is loaded with debris, and boaters running full bore out of the Cut ran into an immediate slowdown in order to avoid the islands of hyacinths, floating logs, and 'all kinds of stuff.' The high tide left 1st Street with only a few feet of clearance to the sidewalk. Benicia has grass shrimp, pile worms, bullheads, blood worms, and eel in the shop for those willing to brave the conditions over the weekend.
Jay Lopes of Right Hook Sport Fishing has been working upriver near Garnet Point over the past few trips, and he will be moving his boat to Martinez on Monday. He said, "The big fish haven't been biting, but we had nonstop action on Thursday for 28 shakers ranging from 24 to 36 inches in addition to a keeper landed by John Migliori with everything in straight eel." John Badger of Barbarian Sport Fishing was also out on Thursday, and a two estimated slot fish came unbuttoned.
Rio Vista Bait and Tackle reported improved sturgeon fishing both upstream in Cache Slough or downstream near the Sherman Island Power Lines with ghost shrimp. Stripers are holding up on the anchor, but sturgeon fishing is taking over with the muddy water arriving in the Delta. They have ghost shrimp, pile worms, blood worms, minnows, and mudsuckers in the shop.
---
On Tuesday 12-16 Captain Stan Koenigsberger of Quetzal Adventures out of Bethel Island went to the main Sacramento River off of Sherman Island off of Light 16 over the weekend for plenty of action on striped bass. They hooked 17 fish, including legal stripers to 27 inches.
Lee O'Brien at Gotcha Bait in Antioch reported striper action is slowing down with the cold and muddy water, but sturgeon fishing is on the upswing. He was in Cache Slough on Sunday night, and he released three sturgeon under the slot size after landing a keeper there in the previous week. He also fought an unseen sturgeon for 45 minutes before it came unbuttoned. Sturgeon have also been taken out of Broad Slough and in the Pittsburgh area. The hyacinth has dissipated above the Rio Vista Bridge, but it has moved downstream into the Pittsburg area. They have ghost shrimp in the shop as well as mudsuckers, minnows, pile worms, and lamprey eel. Grass shrimp has been near impossible to obtain.
Ed at Bay Tackle reported excellent sturgeon and striper fishing in lower Suisun Bay near the Benicia/Martinez Bridge, Montezuma Slough, Grizzly Island, and along Sherman Island Road as the sturgeon are starting to move. They have live ghost shrimp, cured ghost shrimp, lamprey eel, and frozen baits in the shop. Once again, grass shrimp is unavailable.
---
As hyacinth clears out, focus turns to next year
STOCKTON — Recent storms have mostly cleared Stockton waterways that were hijacked by hyacinth the past two months, but officials at a standing-room-only town hall meeting Monday said it's important to stay focused on the future.
"Don't forget about it just because the water hyacinth goes away," said Jeff Wingfield, environmental manager at the Port of Stockton. "That's what we tend to do every year. Our memories don't last that long — as soon as it's gone we don't notice it again until the entire Delta is full."
The port pulled 2,000 dripping tons of hyacinth out of the Stockton Deep Water Channel this year and "it really didn't make a dent," he said. For better than a month, big ships that depend on radar stopped traveling up the channel at night, putting the port at a competitive disadvantage with other facilities in California.
The head of the state agency charged with keeping Delta waterways clear told the crowd Monday that officials did everything they could this year. The state Division of Boating and Waterways sprayed herbicides on about 2,430 acres of waterways this year, higher than most preceding years, acting chief Chris Conlin said, And yet, the hyacinth still exploded, in part because of the drought.
Although it has been highly criticized by boaters, the state cannot spray whenever or wherever it wants. In fact, under the terms of its permits, the state can't spray again until March 1. In the meantime it has hired contractors with mechanical harvesters to unclog particularly vulnerable channels, like the Calaveras River. And Conlin promised swift action next March, thanks to a new five-year permit that slashes some of the red tape.
"Come March 1, we are clear" to spray, he said. "That's a good start."
In the long term, a collaborative effort that brings together experts formerly working in isolation will also help, he said. That effort includes plans to introduce more South American bugs that chomp on water hyacinth, and the use of satellites to map out the spread of the plant which will allow officials to be smarter about where they spray. I'm a Marine. I know how to fight things," Conlin said. "The first way you fight things is to find out where it is and go kill it."
Monday's meeting was called by state Sen. Cathleen Galgiani, D-Stockton who has said that she intends to hold a follow-up hearing and possibly introduce legislation.
Boaters' feelings after the meeting ranged from "total waste of time," as one put it, to hope that eventually, at least, progress might be made. "Eventually" isn't very helpful, though, at Rivers End Marina, whose boat lunch is blocked. "We're totally socked in again," said Bill Pease, owner of the marina near Tracy. "At least now there is a plan. The tough part is that's going to be years for that to all get going. And from a business standpoint, we don't have years."
Contact reporter Alex Breitler at (209) 546-8295 or abreitler@recordnet.com. Follow him at recordnet.com/breitlerblog and on Twitter @alexbreitler.
---
Dead in the Ditch: Valley Drainage Canals Often Fatal Detour for Salmon
Proposed fix delayed by state and federal water agencies' inaction
Woodland, Calif. – Hundreds of large salmon have taken a wrong turn into dead-end drainage ditches in the Yolo Bypass where they will perish if not rescued by the California Department of Fish and Wildlife. Born in freshwater, salmon travel to the ocean to mature and then return, swimming upstream to their natal streams to reproduce. Canals, levees, dams and other water infrastructure built by people interrupt migrations and are a major factor in the dramatic decline of Central Valley salmon species, many of which are now imperiled.
"The Department of Fish and Wildlife is doing great work to help these stranded fish. But the bottom line is that this is an avoidable problem," said Jacob Katz of California Trout, a non-profit organization that advocates for the recovery of the state's threatened native fish. "With a small amount of focused engineering work, we could solve this problem and keep these salmon on course. Then state staff could focus their time and energy on other pressing projects."
Ensuring that these late-arriving salmon are saved and spawn successfully is particularly important this year due to the extended drought. Elevated river temperatures caused by drought are believed to have killed many of the salmon eggs laid earlier in the fall. Only now are temperatures in upriver spawning beds near Redding cooling enough to successfully hatch salmon eggs.
"Because of the drought, saving these fish is very important. They may represent our best chance at a future generation three years from now, when this year's salmon hatchlings will reach maturity," said Katz.
Salmon navigate largely by smell. Because the drainage water flowing out of the canals originates in the Sacramento River basin, it can confuse salmon, luring them into drainage ditches where they become stranded and die. The number of salmon lost each year is unknown because high muddy water in winter usually makes it hard to observe fish in the canals. This year, however, low water conditions are allowing DFW to trap the salmon and move them back to the Sacramento River to continue their spawning journey.
Fishing organizations, environmental advocates and agricultural interests have been urging state and federal agencies to make improvements that would help keep salmon in the main stem. Working together, local farmers, drainage districts and salmon advocates, including Cal Marsh and Farm, California Trout and the Golden Gate Salmon Association, have proposed a relatively easy fix to the canal system that would redirect the salmon back to the river and safety, averting this kind of expensive rescue effort in the future.
"Salmon straying into the Yolo Bypass and the Colusa Drain is clearly a large problem and it is in everybody's interest to fix it. And making the necessary changes is not very complicated," said local rice farmer and landowner John Brennan. "There are only two ways into the Colusa drainage system. Both can be engineered relatively quickly and economically to prevent fish straying."
The California Department of Water Resources and US Bureau of Reclamation are the two agencies with primary responsibility to make improvements to the water management infrastructure to benefit salmon. Both agencies are working on a long term plan to restore more salmon-friendly habitat to the Yolo Bypass, where the canal and lost fish are located. These planning efforts are likely to take a decade or more to complete. In the meantime, efforts to upgrade the canal infrastructure and solve the immediate problem of salmon being falsely attracted into the drainage canals have suffered repeated delays.
"The state and federal agencies need to address this problem now," said John McManus of the Golden Gate Salmon Association (GGSA), a coalition representing sport and commercial salmon fishermen.
The salmon being intercepted now are believed to be fall run, but federally endangered winter and spring run salmon also swim up the canals, often to their death. In 2013 an estimated 600 winter run salmon, the most endangered of the Central Valley salmon runs, swam into the canal. About half were captured by DFW and relocated to the river but none successfully reproduced.
"If that many adult winter run salmon were caught at sea, the National Marine Fisheries Service could have shut down the $1.4 billion dollar ocean salmon fishery," said McManus of GGSA. "If 20 percent of the offspring from these adult fish were sucked into the Delta pumps, the National Marine Fisheries Service could be forced to shut down the Central Valley and State Water Projects which provide water to millions of Californians. There is simply no excuse for allowing this problem to persist as long as it has."
Frequently Asked Questions:
Why does it matter if a few fish don't manage to reproduce this year?
Salmon need cold water in order to successfully reproduce. California is in its fourth year of drought. Water levels are down and water temperatures are up. Most of the fall run has already spawned. The fish at the trap now are relatively late arrivals. Ensuring that they are saved and successfully spawn is particularly important because elevated river temperatures caused by drought are believed to have killed many of the salmon eggs laid earlier in the fall. Only now are temperatures in upriver spawning beds cooling enough to successfully hatch salmon eggs.
What effect has the drought had on overall salmon populations in the Central Valley?
Central Valley salmon runs are adapted to drought, and under natural conditions salmon would adapt by using the cold-water habitats where they are available. But human alteration of the valley, especially construction of dams which cut salmon off from cold water habitats and levees which limit food production on floodplains, has degraded the river habitats on which salmon depend. Many of the native Central Valley salmon runs are now imperiled.
How many fish have been caught and transported out of this canal to date this fall?
Over 500, mostly fall run Chinook salmon, have been captured at this one location alone in the last month. Many more are showing up each day. Endangered winter run Chinook salmon are expected to begin arriving in the coming months.
Where is the drainage canal in question located?
Beginning near Red Bluff and ending in the Delta, the network of flood protection and ag drainage canals stretches for over 100 miles down the west side of the Sacramento Valley. Attracted by the water flow coming down the canals, fish leave the Sacramento River and swim into the drainage system in the southern Yolo Bypass near Liberty Island. The trapping location, at Wallace Weir on Knaggs Ranch, is 30 miles north near the town of Woodland. If the trap is not in place, salmon can continue upstream into the Colusa Drain, a maze of ditches which extends approximately 80 miles north.
What fixes have been proposed to state and federal agencies that would prevent these types of wrong turns in the future?
Local stakeholders including drainage districts, environmental conservation organizations and farmers have long advocated for a upgrading the obsolete Wallace Weir with operable gates that would block salmon and sturgeon from swimming up the canals.
Why haven't these improvements been made?
The improvement projects are relatively cheap and have no detractors or opponents. There has been a lack of political will to align the local, state and federal agencies needed to actually get something done and improve the situation on the ground. DWR and the BOR, as lead state and federal agencies, need to step up and build a permanent fix, rather than continue a cycle of perpetual planning.
DFW staff trap stray salmon out of drainage ditches in Yolo Bypass and ready them for relocation to the Sacramento River. Over 500 fish have been moved recently.
---
---
The waters of the Delta turned into chocolate milk this past weekend with the arrival of the heavy winter storm, and the stripers have vacated the north Delta in search of clearer water further upstream into the Sacramento River system. The water hyacinth has migrated further west, and the launch ramp in Pittsburg was littered with vegetation over the weekend, leaving many boaters seeking alternate arrangements.
Alan Fong of the Fishermen's Warehouse in Sacramento reported Sunday 12-14, "The water is muddy up north, and there were four boats working Liberty Island earlier in the week without a single striper taken from any of the boats. The stripers left and they went north into the Port of Sacramento where the water is much clearer. With the sediment in the water, the temperature has risen to 57 degrees, up from 55 degrees, but the fish have left."
Don Paganelli of Paganelli's Bass Fishing Experience confirmed the muddy water, stating, "The upper river is blown out, and the swimbait bite has dissipated with some of my friends finding stripers in Lindsay Slough, but all of the action was on spoons."|
Sturgeon fishing was solid before the storms arrived in the middle of the week, and Jay Lopes of Right Hook Sport Fishing found good action for numbers on Sunday with between 10 and 15 shakers released in addition to a small slot limit keeper and another keeper sturgeon that came unbuttoned. He has been fishing in the shallows in central Suisun Bay, and straight eel has been the top bait with the fish reluctant to pursue salmon roe. Lopes will be moving to the Martinez Marina after Christmas as the majority of the sturgeon action has been centered between Suisun and San Pablo Bays. Lopes said, "I know that the larger fish have moved somewhere, and I will be searching for them over the next week; and although our numbers will be down, we want the opportunity for more keepers. This upcoming week of larger tides should bring out the bite in a big way."
Tony Lopez of Benicia Bait reported the small tides affected the sturgeon action in the area, but boaters fishing the deep water off of Ozol Pier found action for keepers and oversized sturgeon. Striper fishing from the shoreline continued to be excellent with 'just about anything.' Lopez said, "We went through all of our boxes of pile worms on Sunday, and bullheads leave the shop as soon as they arrive." Grass shrimp is in short supply everywhere, and owner Curtis Hayes has been working hard for an average of 15 pounds per day. He added that striper fishermen out of McAvoy's have been finding solid striper action near the Firing Line and Seal Island with bullheads or splittail.
In the Pittsburg area, James Nguyen at Dockside Bait found solid action for keeper striped bass ranging from 7 to 12 pounds on mudsuckers in the shallows on Saturday, but the action slowed to a crawl on Sunday with the Pittsburg launch ramp loaded with water hyacinth. He said, "We went out for two hours on Saturday, and we landed our limits on mudsuckers, and even released an oversized sturgeon on the live bait, but the hyacinth at the launch ramp forced several boaters to turn around on Sunday."
Captain Mike Gravert of Intimidator Sport Fishing, currently out of Korth's Pirate's Lair at the confluence of the San Joaquin and Mokelumne Rivers, was able to find 'Wide Open' action early last week prior to the storms with jumbo minnows, giant golden shiners, or mudsuckers, stating, "This week we had a full blown buffet of bait, and we found great action on everything we threw at them." He also put their clients onto their first-ever spoon bite with 1.75-ounce Blade Runner spoons or 2-ounce P-Line Laser Minnows. Gravert added, "The fish we saw this week were definitely new fish that have pushed into the system, and the water conditions weren't too bad yet with 57.5 degree temperatures and tea-colored water."
Jay Lopes of Right Hook Sport Fishing attempted to find clear water just after the storms, and he said, "Mildred Island was a blow out, and after launching at Brannon Island, I searched for 45 minutes to find clear water but was unsuccessful."
J. D. Richey of Richey's Sport Fishing said, "Prior to the storms, the San Joaquin was good, but the muddy water has driven us north to the Port of Sacramento where there was a good bite early in the weekend."
Randy Pringle, the Fishing Instructor, said, "I will be back out on the Delta after this last series of storms, and we will be targeting stripers with propbaits such as Roadrunners in order to bring vibration into the mix to attract the linesides in the off color waters."
In the south Delta, Brandon Gallegos of H and R Bait in Stockton reported a few striped bass are taken on the main San Joaquin River despite the muddy water. Live mudsuckers have been the top bait given the water conditions. The hyacinth is starting to dissipate, but certain areas are still loaded with the vegetation. Sturgeon are starting to show up on both the Santa Clara and San Andreas Shoals. Fresh shad is all but over with the bait fish dropping deep in the water column due to colder water conditions as well as the heavy dose of hyacinth in the Port of Stockton.
Floating logs and trees are a feature on the San Joaquin, and Captain Stan Koenigsberger of Quetzal Adventures out of Bethel Island sent in this photo from the river.
---
The Thirsty West: 10 Percent of California's Water Goes to Almond Farming
That's nuts.
DENAIR, Calif.—In California's vast Central Valley, agriculture is king. But the king appears fatally ill, and no worthy replacement is in sight, as the area noticeably reverts into the desert it was little more than a century ago.
Signs line the back roads here that run parallel to wide irrigation ditches: "Pray for rain" "No water = No jobs"
As I've already discussed in the Thirsty West series, city-dwelling Californians are a bit insulated from near-term water shortages thanks to the state's intricate tentaclesof aqueducts, pipelines, and canals that divert water from the snowcapped Sierras to the urban core along the coast. Rapid population growth looms ominously, but for now, you'll still be able to brush your teeth in Oakland and Burbank.
By all accounts the current water crisis is far more urgent in the sprawling fields of the Central Valley. And that's bad news for those of us who enjoy eating daily. Two simple facts explain why: California is the most productive agricultural state in the union, and agriculture uses 80 percent of California's water. In a year with practically none of the stuff, that's enough to send ripple effects throughout the country.
California is the nation's leading producer of almonds, avocados, broccoli, carrots, cauliflower, grapes, lettuce, milk, onions, peppers, spinach, tomatoes, walnuts, and dozens of other commodities, according to a 2012 Department of Agriculture report (PDF). The state produces one-third of our vegetables and two-thirds of our nuts and fruits each year. While fields in iconic agricultural states like Iowa, Kansas, and Texas primarily produce grain (most of which is used to fatten animals), pretty much everything you think of as actual food is grown in California. Simply put: We can't eat without California. But as climate change–fueled droughts continue to desiccate California, the short-term solution from farmers has been to double down on making money.
Like many Americans, I'd never visited California's ultra-productive Central Valley before my monthlong drought-themed road trip for Slate. I wasn't quite sure what to expect besides lots and lots of fields. Having grown up in a small town in Kansas and living now in the heart of Wisconsin's dairy country, I'm plenty familiar with agriculture, but I've never seen anything remotely resembling the scale on which it's practiced here. Agriculture here isn't the endless fields of corn and wheat of my childhood. Thanks to California's unique climate, fields here are comprised almost entirely of high-value cash crops.
Driving northward along California state Route 99 from Bakersfield to Fresno, we passed mile after mile of almond orchards, vineyards, and warehouses. There were enormous piles of hay on dairies the size of small towns. Citrus plantations extended to the horizon. And between them all was a crisscrossing network of irrigation ditches, most of which were dry. Coincidentally, this rural highway also bisects the heart of California's current mega-drought, in which three-quarters of the state is currently rated "extreme" or "exceptional" by the USDA and National Oceanic and Atmospheric Administration. It's pretty easy to see why this place is the epicenter of Western water issues. I ended up spending more time here than in any other stop on the trip.
Farmers in California are forced to irrigate because of a fundamental seasonal mismatch: The vast majority of the rain and snow comes in the winter and the best growing conditions (sunlight, warmth) of California's temperate Mediterranean climate are in the summer.
This year, farmers have to make important decisions—and it often comes down to money. If given a choice between keeping fruit trees alive (which take years to mature and can bring 10 times more money per acre), or planting rows of vegetables that live only a few months, that's a no-brainer if you're trying to maximize profit. This year, farmers are fallowing vegetable fields and scrambling to save high-dollar fruit and nut orchards. The result is counterintuitive: In the midst of the worst drought in half a millennium, the most water-intensive crops are getting priority.
California almonds use a stunning 1.1 trillion gallons of water each year, or enough for you to take a 10-minute shower each day for 86 million years (using a low-flow showerhead, of course). Here's the calculation: California as a whole diverts or pumps 43 million acre-feet of water each year to supplement its meager rainfall. In total, agriculture consumes 34 million acre-feet of that. (An acre-foot is just what it sounds like: the amount of water needed to cover an acre of flat ground up to a foot, or about 325,000 gallons of water.) In 2013, there were 940,000 acres of almonds in California, according to the USDA (PDF). Each acre of almonds uses three to four acre-feet of water each year, most of which are delivered via river diversions or groundwater.
Almonds are one of California's most water-intensive crops, but during this year's epic drought farmers are planting even more. The reason? Economics.
Almonds alone use about 10 percent of California's total water supply each year. That's nuts. But almonds are also the state's most lucrative exported agricultural product, with California producing 80 percent of the world's supply. Alfalfa hay requires even more water, about 15 percent of the state's supply. About 70 percent of alfalfa grown in California is used in dairies, and a good portion of the rest is exported to land-poor Asian countries like Japan. Yep, that's right: In the middle of a drought, farmers are shipping fresh hay across the Pacific Ocean. The water that's locked up in exported hay amounts to about 100 billion gallons per year—enough to supply 1 million families with drinking water for a year.
Though economics drive the seemingly improbable logic of California's water exporting, that's no reason to rush to boycott almonds. As this viral infographic fromMother Jones shows, it takes more than a gallon of water to grow a single almond, and it may take 220 gallons of water to produce a large avocado. But pound-for-pound, there's an order of magnitude more water needed to get meat and dairy to your plate. A stick of butter requires more than 500 gallons of water to make. A pound of beef takes up to 5,000 gallons. More than 30 percent of California's agricultural water use either directly or indirectly supports growing animals for food. (As Slate's L.V. Anderson recently wrote, one of the single most effective actions to combat climate change would be if everyone in the world went vegetarian overnight. It would also likely wreck our economy.)
Later this year, as the effects of California's drought reverberate through America's supermarkets, they'll be what amounts to a de facto water tax: The biggest price increases will be found with some of the most water-intensive crops.
Farmers here are turning to groundwater to make up the difference—and that's where things get worse. The shocking truth is, California is the last state that doesn't regulate groundwater pumping, even as supplies are dwindling. That means the motto around here right now is, to borrow another Mother Jones headline: "Drill baby drill (for water, that is)." In some overpumped places, the ground has already sunk by dozens of feet. There are indications that the debate could be changing. In April, a series of conservation bills were presented in the state Senate, with the intention of using the current crisis to address the issue of slipping groundwater supply.
The stakes are so high and the backlog for new water wells is so long that some farmers are buying their own million-dollar drilling rigs, just to protect their massive investments. Wildcatting drilling crews are working 24 hours a day to keep up with demand.
California will never solve its water crisis if the aquifer keeps getting more and more holes to extract groundwater. But in dry years like this one, the state's agriculture would almost cease to be without groundwater. One short-term answer is more efficient methods, like drip irrigation. The problem is, irrigation technology has gotten so good that typically the end result is increased yields. And the more efficient the irrigation, the less water gets into the soil for groundwater recharge.
While agriculture isn't a monolith, you'd think an industry dependent on water would be fighting for its survival by addressing the core of the problem. Yet some subsets of the industry seem to refuse to accept the new reality.
---
Upcoming Events:
USAFishing proudly supports the many fishery and wildlife organizations that benefit anglers and hunters throughout Northern California. If you or your organization needs to get the word out or are looking to promote an event please contact us at fishsite@aol.com so we can inform our readers.

Golden Gate Salmon Association Events Calendar
---
Party Boat Information and Reservations around the Bay
The Happy Hooker is running halibut and striper trips out of Berkeley 2008 +1.510.223.5388

California Dawn is running sturgeon trips from Berkeley +1.510.773.5511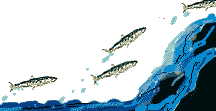 Caught Fish? Looking for timely informative updates? Check out a FREE trial to the Northern California Hotsheet, California's fastest growing fishing newsletter. The Hotsheet is emailed three to four evenings per week direct to your desktop. No hunting the web for information or waiting on an outdated magazine to arrive in the mail. These in-depth reports keep you on top of what is happening TODAY so you can catch more fish tomorrow! Just $3.50 per month when you subscribe for one year. You can receive a free week's trial copy by e-mailing a request to hurleyjacks@aol.com