Delta Report
By Dave Hurley
The salmon bite remained best in lower Suisun Bay and from the two spots near Freeport at the bridge or the Minnow Hole from the shoreline. Bank fishermen throwing heavy spinners continued to have more success than boaters, although the water temperature has dropped several degrees within the past week. The water hyacinth is a major nuisance from Decker Island north to the Ryer Island Ferry and into the Old Sacramento River towards Isleton. Striped bass fishing is dominated by small fish, but bait fishermen soaking bullheads in Suisun Bay are finding 'teenagers' – linesides ranging from 10 to 18 pounds.
Tony Lopez of Benicia Bait reported the salmon keep coming from the Benicia shoreline with between 10 and 12 fish taken daily at both the Dillon Point State Park and 1st Street in Benicia. He was at 1st Street on Sunday 10-19 morning, and he observed a bright chrome salmon getting snatched off a line by a marauding sea lion. Vee-Zee or Flying C spinners have been the ticket for shore anglers.
In the upper Sacramento delta from the mouth of the Old Sacramento towards Walnut Grove, Sylvia Viera of Viera's Riverside Bait near Isleton said, "Salmon fishing has not been very good between the invasion of water hyacinth and the high water temperatures as you have to pull your line in every five minutes or so to clear your lure." The water temperature has dropped to 67 degrees, and a few salmon have been landed on a daily basis. Caleb Thuotte of Lodi landed a 25 pound salmon on a firetiger K-14 Kwikfish.
Captain Stan Koenigsberger of Quetzal Adventures out of Bethel Harbor has been trolling between the mouth of the Old Sacramento towards the Rio Vista Bridge, and he put client Omar Alvaro of Los Angeles on a 14 pound salmon on the single-bladed Turtle spinner in chartreuse.
However, the action has been spotty as field scout Dave Scatena of Stockton reported slow action at the end of the week with only two salmon noted in the Walnut Grove area. Scatena said, "After landing salmon on nearly every trip last year, I have only been able to pick up one salmon on six trips this year."
Larger striped bass have been holding around Liberty Island with smaller schoolies in the Sacramento Deep Water Channel. Alan Fong of the Fishermen's Warehouse in Sacramento said, "On calm days, we have been finding them inside the island in the shallows with 10-inch Kincannon glide baits in bone, but the fish seem to vacate the shallows when the wind blows." He added that the fish are running up to the Port of Sacramento and outside of the mouth of the Port with fishermen finding them bait fishing, jigging spoons, tossing top water lures, or throwing Fish Traps.
Do Doung at Dockside Bait in Rio Vista reported striped bass to 10-pounds have been landed on bullheads or mudsuckers, but the action slowed down considerably over the weekend despite picture-perfect weather with not a breath of wind. They have bullheads, mudsuckers, and grass shrimp in the shop.
Sturgeon fishing remained fair with the best action in the Pittsburg area. Jay Lopes of Right Hook Sport Fishing out of Pittsburg said, "The bite is not quite there yet, but I think it will break loose any day now as the water temperature is dropping." "We have been landing most of our fish on the outgoing tide, and we have a good outgo for the next couple of days in the early morning." The water temperature is currently at 66/67 degrees. He has put his clients onto oversized sturgeon or keepers on two of the last three trips. The Pittsburg PGE Plant, Broad Slough, and Chain Island have been the top locations.
Captain Mike Gravert of Intimidator Sport Fishing has taken root in Korth's Pirate's Lair with striped bass as the targeted species due to the inconsistency of salmon fishing in the Sacramento River. He said, "We have been experiencing fantastic striper fishing in the main San Joaquin River, and with all of the hyacinths, we are drifting live mudsuckers in order to avoid the mats of weeds." "Most of the fish are schoolies, but there is the occasional keeper to 5 pounds in the mix."
Tom Amberson of Elk Grove found fantastic striped bass fishing on the San Joaquin, catching and releasing linesides to 25 pounds using a variety of topwater Delta Wood Bombers Sinister 5's or 5-inch MC swimbaits in the shallows.
In the Antioch area, Doug Chapman of Gotcha Bait said, "Striped bass fishing has been solid, but there are a large number of shakers in the mix." "The larger fish from the Antioch Fishing Pier have been coming on cut sardines, but boaters are scoring with fresh shad." Bluegill fishing has slowed a bit, but local fishermen continued to purchase wax worms or regular worms like 'they are going out of style.' Catfishing has been slow with the absence of fresh or frozen clams
In the south Delta near Stockton, Brandon Gallegos of H and R Bait confirmed the plethora of undersized striped bass, but there have been keepers in the 23 to 25 inch range off of Brookside Road in Stockton in the early mornings with Pencil Poppers or Zara Spooks. The bite is similar in Whiskey Slough with schools of striped bass chasing bait towards the shorelines in the early morning. The quality of fresh shad is solid with most bait ranging from large to extra-large size, and the supply is holding up. Bluegill fishing has been best off of Tracy Boulevard, Grimes Road, Discovery Bay, Whiskey Slough, and Turner Cut with wax worms or red worms.
---
Farmers may need to measure water from Delta
Accused of stealing water released from upstream reservoirs, more than 1,000 Delta farmers may soon be required to report exactly how much water they've been diverting — a request that their attorneys argue could be burdensome and unnecessary.
Earlier this summer, the state and federal governments complained to regulators that water released from reservoirs wasn't making it all the way to giant export pumps near Tracy. The missing water, they reasoned, was likely being pumped along the way by Delta farmers. Those farmers do have senior water rights, but they are not entitled to water that has been stored upstream. They can take only what is considered to be "natural" flow. Delta advocates have contended that since there is always water in the tidal estuary, there is always "natural" flow.
The broader legal issues are complex, and ultimately may be decided in court. For now, however, the government says it merely wants a better accounting of how much water is being used by the farmers. Officials repeated that request to the State Water Resources Control Board at a meeting Thursday.
"I think additional information would be helpful for us to determine what is happening out there in the Delta," said Paul Fujitani with the US Bureau of Reclamation.
But attorneys for Delta farmers called for formal hearings to resolve the larger issue of whether the diversions are illegal, which could make the question of how much water those farmers are taking a moot point.
"My clients call me week in and week out since December, asking if they're going to be able to divert water," said Lodi attorney Jennifer Spaletta. "I think they recognize that when these issues get resolved, they may not like all of the answers. But they want the resolution. They want the certainty.
"They want to pass their farms on to their kids. And they want to know how it's going to work. They need answers."
A draft order prepared by the water board would give Delta farmers five days to report how much water they've used in the past year, and how much they expect to use in the coming months. Officials said the board would have discretion to give farmers more time to comply, if needed.
Five days isn't much time, particularly during the harvest season, Delta advocates said. They questioned why the Delta alone was being targeted, when the diversion of the reservoir water could have happened someplace else."I think that obviously pushes a hefty burden and an unfair burden on a single region of the state," said Kurtis Keller, special water counsel for San Joaquin County.
Water exporters who have seen their supply from the Delta slashed, however, said the missing water would have made a big difference this year. The Westlands Water District, which has fallowed 220,000 acres for lack of water, says it could have irrigated about 40,000 to 60,000 acres with that water."It really hurts our farmers," said Jose Gutierrez, Westlands'deputy general manager. "So many farmers are on the edge of failure."
Like the Delta growers, Gutierrez said, "A lot of our farmers are also worried their farms are not going to be around in 10 or 20 years for their children."Board Chair Felicia Marcus said the water board would search for a fair solution.
Contact reporter Alex Breitler at (209) 546-8295 orabreitler@recordnet.com.
---
The Thirsty West: 10 Percent of California's Water Goes to Almond Farming
That's nuts.
DENAIR, Calif.—In California's vast Central Valley, agriculture is king. But the king appears fatally ill, and no worthy replacement is in sight, as the area noticeably reverts into the desert it was little more than a century ago.
Signs line the back roads here that run parallel to wide irrigation ditches: "Pray for rain" "No water = No jobs"
As I've already discussed in the Thirsty West series, city-dwelling Californians are a bit insulated from near-term water shortages thanks to the state's intricate tentaclesof aqueducts, pipelines, and canals that divert water from the snowcapped Sierras to the urban core along the coast. Rapid population growth looms ominously, but for now, you'll still be able to brush your teeth in Oakland and Burbank.
By all accounts the current water crisis is far more urgent in the sprawling fields of the Central Valley. And that's bad news for those of us who enjoy eating daily. Two simple facts explain why: California is the most productive agricultural state in the union, and agriculture uses 80 percent of California's water. In a year with practically none of the stuff, that's enough to send ripple effects throughout the country.
California is the nation's leading producer of almonds, avocados, broccoli, carrots, cauliflower, grapes, lettuce, milk, onions, peppers, spinach, tomatoes, walnuts, and dozens of other commodities, according to a 2012 Department of Agriculture report (PDF). The state produces one-third of our vegetables and two-thirds of our nuts and fruits each year. While fields in iconic agricultural states like Iowa, Kansas, and Texas primarily produce grain (most of which is used to fatten animals), pretty much everything you think of as actual food is grown in California. Simply put: We can't eat without California. But as climate change–fueled droughts continue to desiccate California, the short-term solution from farmers has been to double down on making money.
Like many Americans, I'd never visited California's ultra-productive Central Valley before my monthlong drought-themed road trip for Slate. I wasn't quite sure what to expect besides lots and lots of fields. Having grown up in a small town in Kansas and living now in the heart of Wisconsin's dairy country, I'm plenty familiar with agriculture, but I've never seen anything remotely resembling the scale on which it's practiced here. Agriculture here isn't the endless fields of corn and wheat of my childhood. Thanks to California's unique climate, fields here are comprised almost entirely of high-value cash crops.
Driving northward along California state Route 99 from Bakersfield to Fresno, we passed mile after mile of almond orchards, vineyards, and warehouses. There were enormous piles of hay on dairies the size of small towns. Citrus plantations extended to the horizon. And between them all was a crisscrossing network of irrigation ditches, most of which were dry. Coincidentally, this rural highway also bisects the heart of California's current mega-drought, in which three-quarters of the state is currently rated "extreme" or "exceptional" by the USDA and National Oceanic and Atmospheric Administration. It's pretty easy to see why this place is the epicenter of Western water issues. I ended up spending more time here than in any other stop on the trip.
Farmers in California are forced to irrigate because of a fundamental seasonal mismatch: The vast majority of the rain and snow comes in the winter and the best growing conditions (sunlight, warmth) of California's temperate Mediterranean climate are in the summer.
This year, farmers have to make important decisions—and it often comes down to money. If given a choice between keeping fruit trees alive (which take years to mature and can bring 10 times more money per acre), or planting rows of vegetables that live only a few months, that's a no-brainer if you're trying to maximize profit. This year, farmers are fallowing vegetable fields and scrambling to save high-dollar fruit and nut orchards. The result is counterintuitive: In the midst of the worst drought in half a millennium, the most water-intensive crops are getting priority.
California almonds use a stunning 1.1 trillion gallons of water each year, or enough for you to take a 10-minute shower each day for 86 million years (using a low-flow showerhead, of course). Here's the calculation: California as a whole diverts or pumps 43 million acre-feet of water each year to supplement its meager rainfall. In total, agriculture consumes 34 million acre-feet of that. (An acre-foot is just what it sounds like: the amount of water needed to cover an acre of flat ground up to a foot, or about 325,000 gallons of water.) In 2013, there were 940,000 acres of almonds in California, according to the USDA (PDF). Each acre of almonds uses three to four acre-feet of water each year, most of which are delivered via river diversions or groundwater.
Almonds are one of California's most water-intensive crops, but during this year's epic drought farmers are planting even more. The reason? Economics.
Almonds alone use about 10 percent of California's total water supply each year. That's nuts. But almonds are also the state's most lucrative exported agricultural product, with California producing 80 percent of the world's supply. Alfalfa hay requires even more water, about 15 percent of the state's supply. About 70 percent of alfalfa grown in California is used in dairies, and a good portion of the rest is exported to land-poor Asian countries like Japan. Yep, that's right: In the middle of a drought, farmers are shipping fresh hay across the Pacific Ocean. The water that's locked up in exported hay amounts to about 100 billion gallons per year—enough to supply 1 million families with drinking water for a year.
Though economics drive the seemingly improbable logic of California's water exporting, that's no reason to rush to boycott almonds. As this viral infographic fromMother Jones shows, it takes more than a gallon of water to grow a single almond, and it may take 220 gallons of water to produce a large avocado. But pound-for-pound, there's an order of magnitude more water needed to get meat and dairy to your plate. A stick of butter requires more than 500 gallons of water to make. A pound of beef takes up to 5,000 gallons. More than 30 percent of California's agricultural water use either directly or indirectly supports growing animals for food. (As Slate's L.V. Anderson recently wrote, one of the single most effective actions to combat climate change would be if everyone in the world went vegetarian overnight. It would also likely wreck our economy.)
Later this year, as the effects of California's drought reverberate through America's supermarkets, they'll be what amounts to a de facto water tax: The biggest price increases will be found with some of the most water-intensive crops.
Farmers here are turning to groundwater to make up the difference—and that's where things get worse. The shocking truth is, California is the last state that doesn't regulate groundwater pumping, even as supplies are dwindling. That means the motto around here right now is, to borrow another Mother Jones headline: "Drill baby drill (for water, that is)." In some overpumped places, the ground has already sunk by dozens of feet. There are indications that the debate could be changing. In April, a series of conservation bills were presented in the state Senate, with the intention of using the current crisis to address the issue of slipping groundwater supply.
The stakes are so high and the backlog for new water wells is so long that some farmers are buying their own million-dollar drilling rigs, just to protect their massive investments. Wildcatting drilling crews are working 24 hours a day to keep up with demand.
California will never solve its water crisis if the aquifer keeps getting more and more holes to extract groundwater. But in dry years like this one, the state's agriculture would almost cease to be without groundwater. One short-term answer is more efficient methods, like drip irrigation. The problem is, irrigation technology has gotten so good that typically the end result is increased yields. And the more efficient the irrigation, the less water gets into the soil for groundwater recharge.
While agriculture isn't a monolith, you'd think an industry dependent on water would be fighting for its survival by addressing the core of the problem. Yet some subsets of the industry seem to refuse to accept the new reality.
---
Upcoming Events:
USAFishing proudly supports the many fishery and wildlife organizations that benefit anglers and hunters throughout Northern California. If you or your organization needs to get the word out or are looking to promote an event please contact us at fishsite@aol.com so we can inform our readers.

Golden Gate Salmon Association Events Calendar
---
Party Boat Information and Reservations around the Bay
The Happy Hooker is running halibut and striper trips out of Berkeley 2008 +1.510.223.5388

California Dawn is running sturgeon trips from Berkeley +1.510.773.5511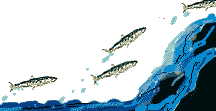 Caught Fish? Looking for timely informative updates? Check out a FREE trial to the Northern California Hotsheet, California's fastest growing fishing newsletter. The Hotsheet is emailed three to four evenings per week direct to your desktop. No hunting the web for information or waiting on an outdated magazine to arrive in the mail. These in-depth reports keep you on top of what is happening TODAY so you can catch more fish tomorrow! Just $3.50 per month when you subscribe for one year. You can receive a free week's trial copy by e-mailing a request to hurleyjacks@aol.com