North Coast Rivers Rise
Heavy rain is falling along the far North Coast here on Thursday 10-23. Rainfall totals are running from 2 to 3 plus inches in far northern Mendocino county, Humboldt and Del Norte. No rain has fallen south of roughly Garberville so far as of 5:PM. The Smith is open (catch and eat) and we expect the flows to be high enough where both the Mad and Eel will open to catch and release by Friday. The Smith so far today has jumped from 6 feet to 11.5 feet as of 6:PM. It is expected to crest at a perfect salmon height of 12ish tonight and drop back Friday and Saturday before rising again on Sunday to between 11 and 12 feet. There have been good numbers of fish pushing into the Smith over the past few weeks. This latest rise will allow fish in the system now to push up and fresh fish to push in. Now through Thanksgiving is the peak of the Smith salmon run. It's these exact conditions were are seeing now that are ideal for salmon anglers. Any rise that brings the river up to the 10 to 13 foot level and slowly drops back towards 8 is ideal for bouncing bait, pulling plugs or fly fishing which has a huge following on this river.
The Mad and Eel should both be seeing big pushes with this rise. Angler working the far lower Eel where it is open and the Mad should enjoy some good catch and release action and due to being C&R light pressure.
---
The BnB Hiouchi Lodge

For readers looking for river front fishing access and lodging a reader turned us on to this little gem. The BNBHiouchi.com is located right on one of the best holes of the main stem, just below the Forks flat and directly across from the "Covered Bridge".
They have three rooms, a single and two doubles and very reasonable rates that include breakfast or lunch and just a nominal fee for dinner if you wish. You have full access to their private bank access, great meals and clean comfortable rooms. Rates are VERY reasonable and you will never stay in a hotel when fishing here again. I'm making reservations for February and can't wait to go! 510 967-4615
---
Rules for the Smith River
New rules have been adopted by the Cal F&G commission for the Smith River in 2011. Only barbless hooks will be allowed in all reaches of the Smith River. The Klamath-Trinity Salmon Report Card has been renamed North Coast Salmon Report card and will now be required on the Smith River also. The annual bag limit for wild trout or steelhead was reduced to zero and no more than five wild Chinook may be kept per year.
---
River Levels:
For river status (low flow closure) updates from Fish and Game please call +1.707.442.4502 for the North coast and +1.707.944.5533 for Central coast streams. Be sure to check out the California Fish and Game regulations before you go. Regulations vary on every river and you need to pay attention to bait and hook restrictions. Due to winter closures on HWYs 5, 101 & 299 we recommend you check Caltrans road conditions as well.
Prime steelhead flows on the Smith river are between 12 and 9 feet. Fish are caught in higher flows by those plucking and even in the low and clear waters below 8.5 feet but prime fishing is always found with a dropping river in the 9 to 12 foot range. No one can predict the best day or conditions but put in a few days in and you will be rewarded. All of our sponsors have room available for the prime January - mid March period. Please call the DFG flow information hotline at 707 822-3164 for additional information.
---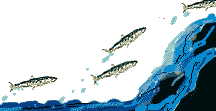 Caught Fish?
Looking for timely informative updates? Check out a FREE trial to the
Northern California Hotsheet
, California's fastest growing fishing newsletter. The
Hotsheet
is emailed three to four evenings per week direct to your desktop. No hunting the web for information or waiting on an outdated magazine to arrive in the mail. These in-depth reports keep you on top of what is happening TODAY so you can catch more fish tomorrow! Just $3.50 per month when you subscribe for one year. You can receive a free week's trial copy by e-mailing a request to
hurleyjacks@aol.com