After weeks of dry weather the storm door is slooooowly creaking open. Here on Thursday 2-22 rainfall totals have ranged from a 1/4 to 1/3" inch in Humboldt and Del Norte to less than a 10th" south of Garberville. While this may have added a touch of color to some rivers most have not come up more than an inch or three.
Showers / light rain is expected again on Saturday with a more significant system forecasted to arrive next Monday 2-26.
Some of the best reports continue to come from the Chetco where guides are pulling out all their tricks to put clients into 1 to 3 fish per day.
The Mad run of hatchery fish is waning but bankies are scoring some fish tossing roe and spoons below the hatchery.
The Eel could break lose after this next rise and will be a great bet considering the mid February date. This is prime time for the Eel and one of my favorite rivers to fish.
The Russian is very low at 250cfs but bankies are still finding good numbers around Dry Creek. Conditions have been crowded but fresh fish are still pushing up. Do your homework and you will find both fish and less crowded sections upriver.
In a nutshell all rivers are still low and clear but these next storm systems look to shake things up and turn the back on.
---



All rivers are low and clear here on Thursday 2-15. The forecast calls for light rain / showers this coming weekend but rainfall totals will be very low and don little to change the current conditions.
The better news is that it is February and there are steelhead moving into all systems. Guide Dave Jacobs has been fishing the Chetco this past week and reports they are still seeing 3 to 5 chances every day. The key is patience.
Dave says he is finding his best action working Hotshots and Weewarts slowly backed through the slots and tail-outs. He is also picking up a few fish casting Cloes in the holes and working splush balls and roe. Tonight he videoed a group of rough fifty fish pushing through the lower Chetco at the take out. There are steelhead in all the rivers, its just a matter of a stealthy approach and patience. Dave added that fishing pressure on the Chetco has been very light and that is a big help to target fish in low and clear conditions.
The Smith is down to under 7 feet and is very low and clear. There are still a few fish being taken on the main stem and bankies are hooking a few on the Middle and North Forks.
The South Fork Eel is down to 415cfs at Miranda. Maybe if you have some good local intel you will find spots to fish but in conditions this low the main stem will be a better bet.
The Mad is currently at 560cfs at Arcata. That said we have seen lots of hatchery bound fish pushing up through January and there are still good numbers staging in the holes below the hatchery. This is a rare time to break out the roe and spoons and target fish in the holes from the hatchery to Blue Lake.
Despite the ultra low flows of just 250cfs at Dry Creek on the Russian there are still steelhead pushing through. Private anglers are seeing decent catches but the key is to find less pressured waters which is always tough in this urban fishery.
---
Alaska Vacation

For readers looking for an Alaska adventure we still have ONE WEEK available at our Kenai peninsula vacation cabin in 2017
Our fully equipped, coastal home sits on three wilderness acres on the "middle Kenai peninsula". Being centrally located we are within 30 minutes of five rivers including the Kenai, Kasilof and Anchor and just 20 minutes north of the saltwater tractor launches in Ninilchik and Deep Creek.
Most of our guests do a combination of fishing on their own and a day or three of guided river, fly-out or saltwater trips between trips. With our centrally base location your options are unlimited.
For all our guest's we include a three hour tutorial (at our Sebastopol home) covering tackle, tactics, best locations. We can also hook you up with some of the best guide, charter and fly-out contacts in the area.
The three bedroom/ 2 bath cabin comfortably sleeps 6 and weekly rates are just $1500 per week (Sunday to Sunday). Additional info and pictures can be found here.
If you have any questions please give us a call at 707 479-099
---
Rules for the Smith River
New rules have been adopted by the Cal F&G commission for the Smith River. Only barbless hooks will be allowed in all reaches of the Smith River. The Klamath-Trinity Salmon Report Card has been renamed North Coast Salmon Report card and will now be required on the Smith River also. The annual bag limit for wild trout or steelhead was reduced to zero and no more than five wild Chinook may be kept per year.
The North Coast river low flow closure hotline is 707-822-3164.
---
River Levels:
For river status (low flow closure) updates from Fish and Game please call +1.707.442.4502 for the North coast and +1.707.944.5533 for Central coast streams. Be sure to check out the California Fish and Game regulations before you go. Regulations vary on every river and you need to pay attention to bait and hook restrictions. Due to winter closures on HWYs 5, 101 & 299 we recommend you check Caltrans road conditions as well.
Prime steelhead flows on the Smith river are between 12 and 9 feet. Fish are caught in higher flows by those plucking and even in the low and clear waters below 8.5 feet but prime fishing is always found with a dropping river in the 9 to 12 foot range. No one can predict the best day or conditions but put in a few days in and you will be rewarded. All of our sponsors have room available for the prime January - mid March period. Please call the DFG flow information hotline at 707 822-3164 for additional information.
---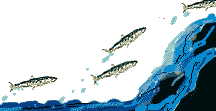 Caught Fish?
Looking for timely informative updates? Check out a FREE trial to the
Northern California Hotsheet
, California's fastest growing fishing newsletter. The
Hotsheet
is emailed three to four evenings per week direct to your desktop. No hunting the web for information or waiting on an outdated magazine to arrive in the mail. These in-depth reports keep you on top of what is happening TODAY so you can catch more fish tomorrow! Just $3.50 per month when you subscribe for one year. You can receive a free week's trial copy by e-mailing a request to
hurleyjacks@aol.com