After several days of good action the rains arrived and Smith ran up to 15 feet on
Thursday 10-27
. Heavy rains hit the far Northwest corner of the state today with the Smith jumping from just over 10 feet to 15 feet or from 6500cfs to 20K cfs. As flows drop in the next few days the bite will only improve. We are seeing the "BEST" salmon action in several years with lots of 20 to 30+ pound fish and a good number of jacks (a great sign for next season) in the mix. We will update this report over the weekend as the river drops in.
The Smith is back to low and gin clear at 8 feet on
Saturday 10-22
morning. Most guides are either bouncing roe through Jeb Smith state park or on the lower river pulling plugs. When the waters get clear the salmon hunker down into the deepest darkest holes. They are hard to approach in clear water but properly presented back bounced roe will work.
The better news is we going to see another series of storms on Sunday (showers), Monday (rain) and more rain mid week. The current forecast for next week calls for another 3 to 5 inches of rain spread out from Sunday through Wednesday / Thursday but the weather models are not really clear what the middle of next week may or may not bring. An inch or even two every other day would be perfect to turn the bite from challenging to ballistic next week.
I would suggest readers grab guide reservations for the coming week. Tony Sepulveda will likely be on the Smith this week. Guide Dave Jacobs is over on the Smith until the bite dies up 530 646-9110.
A fantastic place to stay is the Hiouchi B & B. They offer a great room and meal package and are located one of the best holes (just below the covered bridge) on the upper main stem.
The picture above came from guide Mike Rasmussen who has also reported excellent action this week. Not your usual October fishing attire but whatever helps the fish bite!
This mid October series of storms has brought most North Coast rivers WAY up well before we traditionally see major rises. After blowing out on Sunday 10-17 the Smith dropped back into shape on
Wednesday 10-19.
Our Sac Valley river sponsor Dave Jacobs checked in today to report that the Smith bite is ON!.
After going 0 for six hookups in "BIG water" on
Tuesday 10-16
Dave reported four limits all in the mid to high teens on Wednesday. Dave says they were working plugs on the lower river and had several take downs that were missed and a couple of others lost. The river is quickly dropping but Dave is confident that it should fish well over the next few days. He traveled over from the Sac where the salmon fishing has been good but will be hanging out on the Smith (and bringing his clients here) until the bite drops off. There is rain in the forecast for early next week so we could see another rise and this good bite continue into next week.
---
The Smith river watershed saw 6.5" of rain on Friday 10-14 and jumped from just 170cfs to 20,000cfs in less than 24 hours. That is a rise from 4.7' to nearly 18 feet. This rise has allowed salmon both staging in the estuary and out off the mouth to push in and up.
On Saturday morning 10-15 Mike Rasmussen with Mike's Guide Service ventured out with two clients as the "big storm" approached. Mike made two passes in the lower river on his jet boat and they put in two fish of 9 and 25 pounds. Both were hooked on kwikfish. Mike said it was blowing sideways but his clients knew what to expect and the bite was fast and they were back within two hours. There is no other bite or fight than a Smith salmon hooked on a plug.
Mike will be running Smith salmon trips all this week. Looking at the guidance plots this Tuesday through Friday looks to be ideal. Mike can be booked at 530 722-8876
The BnB Hiouchi Lodge
For readers looking for river front fishing access and lodging a reader turned us on to this little gem. The BNBHiouchi.com is located right on one of the best holes of the main stem, just below the Forks flat and directly across from the "Covered Bridge".
They have three rooms, a single and two doubles and very reasonable rates that include breakfast or lunch and just a nominal fee for dinner if you wish. You have full access to their private bank access, great meals and clean comfortable rooms. Rates are VERY reasonable and you will never stay in a hotel when fishing here again. I'm making reservations for February and can't wait to go! 510 967-4615
---
Rules for the Smith River
New rules have been adopted by the Cal F&G commission for the Smith River. Only barbless hooks will be allowed in all reaches of the Smith River. The Klamath-Trinity Salmon Report Card has been renamed North Coast Salmon Report card and will now be required on the Smith River also. The annual bag limit for wild trout or steelhead was reduced to zero and no more than five wild Chinook may be kept per year.
---
River Levels:
For river status (low flow closure) updates from Fish and Game please call +1.707.442.4502 for the North coast and +1.707.944.5533 for Central coast streams. Be sure to check out the California Fish and Game regulations before you go. Regulations vary on every river and you need to pay attention to bait and hook restrictions. Due to winter closures on HWYs 5, 101 & 299 we recommend you check Caltrans road conditions as well.
Prime steelhead flows on the Smith river are between 12 and 9 feet. Fish are caught in higher flows by those plucking and even in the low and clear waters below 8.5 feet but prime fishing is always found with a dropping river in the 9 to 12 foot range. No one can predict the best day or conditions but put in a few days in and you will be rewarded. All of our sponsors have room available for the prime January - mid March period. Please call the DFG flow information hotline at 707 822-3164 for additional information.
---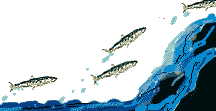 Caught Fish?
Looking for timely informative updates? Check out a FREE trial to the
Northern California Hotsheet
, California's fastest growing fishing newsletter. The
Hotsheet
is emailed three to four evenings per week direct to your desktop. No hunting the web for information or waiting on an outdated magazine to arrive in the mail. These in-depth reports keep you on top of what is happening TODAY so you can catch more fish tomorrow! Just $3.50 per month when you subscribe for one year. You can receive a free week's trial copy by e-mailing a request to
hurleyjacks@aol.com