El Nino Rains Hit
We have seen moderate to heavy rain across the North Coast the past day with more rain forecasted through the weekend. The highest rainfall totals have been concentrated in Sonoma and Mendocino counties. 24 hour rainfall totals through 5:PM Thursday 3-10 are: 1.76" at Gasquet on the Smith. The Smith crested at 17 feet this morning and has dropped to 15 feet as of this writing.
On the Mendo coast Honeydew saw 3.34" while at Ft Seward 2.16" has fallen. The South Fork Eel is still rising with a current level of 18 feet or 19,600cfs at Miranda.
The concern for these storms are centered around the Russian river basin. Rainfall over the past day is 4.04" at Venado and the guidance plot now calls for the river to crest around 35 feet or roughly 3 feet above flood stage at Guerneville late Friday. Three to four more wet systems are lined up and all rivers will remain high and muddy for the next few days to two weeks. With water now being released off most of the dams this will only extend the time until rivers clear.
In a nutshell all coastal rivers look to be out of play through much of the coming week. The Smith or Chetco will be back in play by the middle to late of this next week. This late in the season high water is great for spawning and out migrating fish but not good for steelhead anglers looking to hook some late season metal.
---
Rivers Rise
All North Coast rivers saw significant rises on Saturday 3-5. 24 hour rainfall totals ending at 6:AM Sunday 3-6 were: Gasquet on the Smith river reported 2.6". The Honeydew area near Cape Mendocino saw 5.35, Ft Seward on the Eel reported 3.33 while at Venado (located between Healdsburg and Casadaro) reported 3.75" on the Russian watershed.
More rain is forecasted again Sunday afternoon through Monday morning. Two more additional systems are expected mid to late this week. This will keep all rivers high and off color for the next week or more.
These late seasons storms are ideal for young salmon and steelhead that are both laying in the gravel waiting to hatch or those hatched last year being swept to sea by the high flows. After four years of drought conditions these storms will help seed better returns three to four years down the line.
Rain On The Way
We saw light rain across the North Coast on Wednesday 3-2. The Smith jumped up about a foot to the 10 foot range overnight. This added some much needed color. We expect to see the Smith river to drop back through mid day Thursday and then jumped another foot to around 11 feet late Thursday / early Friday. This rise will help push runback steelies back to the main stem and being March guides should start seeing some bluebacks or three year old steelies making their usual March push.
All North Coast rivers will see a significant rise late Friday and through the weekend. A series of storms is forecasted for all of Central and Northern California and some of the Coastal ranges and rivers could see 8" or more of rain over the next week. This brief window ahead of these storms will slam shut by late Friday.

The South Fork Eel rose just an inch today and is currently at 6.6 feet at Miranda. That is just a tad high but the lack of rainfall the past couple of weeks it could fish tomorrow and Friday if rainfall totals from tonight's system is less than 1/2". Guides are reporting 1 to 4 fish counts and scores this season are well off the numbers we have seen here the past few years.

The Russian river at Healdsburg is running very low at 600cfs or 2'. Fishing here was great in January but has slowed considerably the past couple of weeks due to the low and clear flows. That said we are seeing some of the best hatchery returns in years to Warm Springs and the local boys are sticking a few fish from Geyserville to Duncan Mills every day. The locals don't like when we post good reports as there are often too many anglers for to little real estate. These next storms will blow out the Russian for a week or more but March fishing here can be good once the river clears.
---
Rivers All Dropping In

The Smith river saw a brief and needed rise on Thursday and is currently holding in the mid 9' range here on Sunday 2-28. The action this past week on the Smith has been slowly reports Wally Johnson of Seiad Valley Guide service. Wally said "The numbers of fish in January and early February were some of the best we have seen in years but things are much slower the past two weeks. I've been spending most of my time on the Chetco as it has been much more consistent the past couple of weeks. In fact the Chetco has been putting out some big numbers especially on those days when it's in shape and pressure is low".
In a nutshell the Smith is slow and the Chetco is still giving up 3 to 6 fish scores. We are starting to see more downers in the catches and fewer bright fish on both rivers but there is still some good fishing left. It is nearly March and the peak is behind us but the fat lady is not yet singing.
The South Fork Eel has been grudging giving up some steelhead. The drought and pot growers draining what water is left in many side streams are all having and effect. Tony Sepulveda with Green Water Fishing Adventures and who also owns the six-pack Shellback in Eureka reports "it's been tough. We are hooking 2 to 5 and landing 2 or 4 each day but the action is nowhere near as what we have seen the 5 plus seasons. In past years hooking 8, 10 or even 15 fish on day's float was not unusual. This season if you can find five fish to bite you are on your guide game. Flows this winter have been very favorable for spawning steelhead and salmon but it will be a few years before those fish return.
Hopefully we see a wet March. This will keep the spawning streams full and improve conditions for those baby salmon and steelhead that are currently sitting in the gravel waiting to emerge.
The BnB Hiouchi Lodge
For readers looking for river front fishing access and lodging a reader turned us on to this little gem. The BNBHiouchi.com is located right on one of the best holes of the main stem, just below the Forks flat and directly across from the "Covered Bridge".
They have three rooms, a single and two doubles and very reasonable rates that include breakfast or lunch and just a nominal fee for dinner if you wish. You have full access to their private bank access, great meals and clean comfortable rooms. Rates are VERY reasonable and you will never stay in a hotel when fishing here again. I'm making reservations for February and can't wait to go! 510 967-4615
---
Rules for the Smith River
New rules have been adopted by the Cal F&G commission for the Smith River. Only barbless hooks will be allowed in all reaches of the Smith River. The Klamath-Trinity Salmon Report Card has been renamed North Coast Salmon Report card and will now be required on the Smith River also. The annual bag limit for wild trout or steelhead was reduced to zero and no more than five wild Chinook may be kept per year.
---
River Levels:
For river status (low flow closure) updates from Fish and Game please call +1.707.442.4502 for the North coast and +1.707.944.5533 for Central coast streams. Be sure to check out the California Fish and Game regulations before you go. Regulations vary on every river and you need to pay attention to bait and hook restrictions. Due to winter closures on HWYs 5, 101 & 299 we recommend you check Caltrans road conditions as well.
Prime steelhead flows on the Smith river are between 12 and 9 feet. Fish are caught in higher flows by those plucking and even in the low and clear waters below 8.5 feet but prime fishing is always found with a dropping river in the 9 to 12 foot range. No one can predict the best day or conditions but put in a few days in and you will be rewarded. All of our sponsors have room available for the prime January - mid March period. Please call the DFG flow information hotline at 707 822-3164 for additional information.
---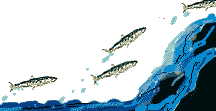 Caught Fish?
Looking for timely informative updates? Check out a FREE trial to the
Northern California Hotsheet
, California's fastest growing fishing newsletter. The
Hotsheet
is emailed three to four evenings per week direct to your desktop. No hunting the web for information or waiting on an outdated magazine to arrive in the mail. These in-depth reports keep you on top of what is happening TODAY so you can catch more fish tomorrow! Just $3.50 per month when you subscribe for one year. You can receive a free week's trial copy by e-mailing a request to
hurleyjacks@aol.com